Fine Artist - Dominique Italiano, Hobe Sound, FL Studied in Rome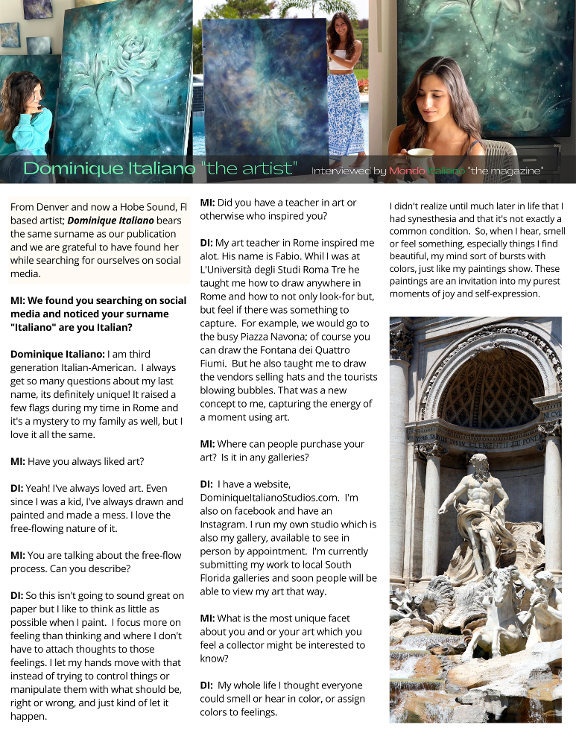 Q.) We found you by searching social media and somehow stumbling on your surname which happens to be the same surname our magazine shares "Italiano" are you Italian or Italian-American?
I am third generation Italian-American. I always get so many questions about my last name, its definitely unique! It raised a few flags during my time in Rome and it's a mystery to my family as well, but I love it all the same.

Q.) Have you always like art?

Yeah! I've always loved art. Even since I was a kid, I've always drawn and painted and made a mess. I love the free flowing nature of it.

Q.) You are talking about the free flow of art for you; talk about your process.

So this isn't going to sound great on paper but I like to think as little as possible when I paint. I focus more on feeling than thinking and where I don't have to attach thoughts to those feelings. I let my hands move with that instead of trying to control things or manipulate them with what should be, right or wrong, and just kind of let it happen.

Q.) Did you have a teacher in art or otherwise who inspired you? How so?

My art teacher in Rome inspired me a lot. His name is Fabio. While I was at L'Università degli Studi Roma Tre, he taught me how to draw anywhere in Rome and how to not only look-for, but feel if there was something to capture. For example, we would go to the busy Piazza Navona. Of course, you can draw the Fontana dei Quattro Fiumi. But he also taught me to draw the vendors selling hats, and the tourist blowing bubbles. That was a new concept to me, capturing the energy of a moment using art.

Q.) Where can people purchase your art? Is it in any galleries?

I have a website, DominiqueItalianoStudios.com. I'm also on Facebook and have an Instagram. I run my own studio, which is also my gallery, available to see in person by appointment. I'm currently submitting my work to local South East Florida Galleries and soon, people will be able to view my work that way.

Q.) What is the most unique facet about you and or your art which you feel a collector might be interested to know?

My whole life, I thought everyone could smell or hear in color, or assign colors to feelings. I didn't realize until much later in life that I had synesthesia and that its not exactly a common condition. So when I hear, smell or feel something, especially things I find beautiful, my mind sort of bursts with colors, just like my paintings show. These paintings are an invitation into my purest moments of joy and self expression.