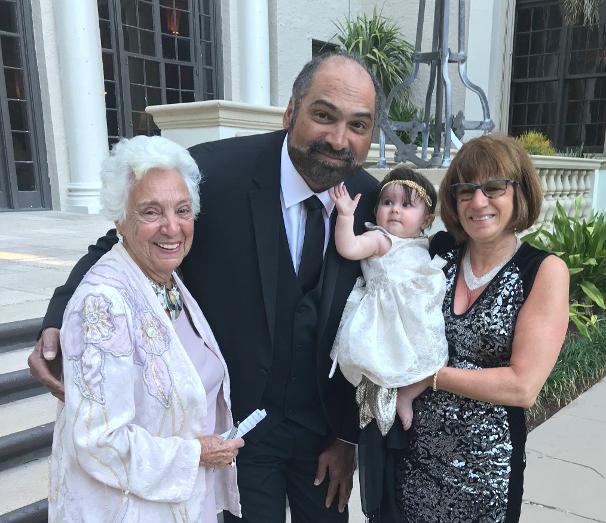 Sally Valenti & family with Franco Harris at the Breakers in Palm Beach, FL
42nd Annual Gala with Italian American Football Superstar Franco Harris
Il Circolo, the Italian Cultural Society, held its 42nd anniversary gala at the Breakers on March 18, 2018. La Bella Figura as it was titled, is an expression meaning making a good impression. As pointed out in Bishop Barbarito's letter to the organization, "Whether it was going to church, going to school, visiting relatives or friends, we had to dress properly,speak properly, and thus express la bella figura. We tried to make our parents and grandparents proud by making a good impression." This theme was the focus of the evening's gala.
Leaving the spectacular Tuscan cocktail hour held in the courtyard, guests were welcomed at the entrance to the Mediterranean Ballroom by Chairman Matt Rocco and his Co-chair Antonella Brancaccio-Balzano.
A welcome from President Paul Finizio, singing of the Italian and American national anthems by Carlos De Antonis, greetings from the Chairs and the Bishop's invocation delivered by Sally Valenti started the fesivities before the sumptuous
dinner was
served. Music by the Antony "Nino" Lane Band pleased diners and also encouraged guests to the dance floor throughout the night.
All stopped as 95 year-old World War II veteran, Mario De Orchis, was wheel-chaired by his son, Dr. Douglas De Orchis, to the stage area to be awarded Lifetime Honoree of Il Circolo. Born in Italy, and eventually educated at Columbia Law School, Mario held a unique position during the war; teaching Italian to a class of 50 generals in Algiers. After the war, his fluency in Italian was the key to his being hired to defend lawsuits related to Italian maritime. This experience led him to form his own law firm, De Orchis and Partners in the Wall Street area. Humble in his demeaner, to know Mario, is to love him.
The honorees, Franco Harris, Adriana Trigiani and Carlos De Antonis emotionally expressed their pride in being Italian and how their traditional up-bringing hepled to bring them to this point of notoriety.
When the auctioning of several items and two outstanding trips to Italy, one to Sorrento and the other to Tuscany were completed, dessert was served and the dancing resumed.
____________________________________________________________________________________________________________________
© All Rights Reserved -
Mondo

Italiano
Magazine

2000 - 2018