Italian-American Gov. Ron DeSantis Signs Bold New Patients' Rights Bill at The Glenview at Pelican Bay
The Glenview at Pelican Bay, one of
Southwest Florida's
top senior lifestyle communities, welcomed
Florida
Gov.
Ron DeSantis
to sign a key bill protecting patients' rights.
DeSantis was in Naples on Wednesday to sign House Bill 987 and Senate Bill 988, establishing broad protections for nursing home and hospital visitors, dubbed the "No Patient Left Alone Act." The bills require intermediate care facilities for the developmentally disabled, developmentally disabled centers, nursing homes, assisted living facilities and hospice facilities to create policies and procedures for in-person visitation.
"We were delighted to host Gov. DeSantis as he signed a bill that will help ensure that patients can see their families during their time of need," said Patrick Noonan, the executive director of The Glenview at Pelican Bay. "We witnessed first-hand the toll it took on our residents and their families when visitation was restricted during the pandemic. We are glad this bill will help ensure family members have physical contact with their loved ones when they need them."
The Glenview at Pelican Bay was chosen to host this event in part because it earned the prestigious Governor's Gold Seal Award for Excellence in Long-Term Care in January of 2019 and in 2022. Receiving the Governor's Gold Seal Award means patients can be confident that The Glenview's Premier Place Health Center meets exceptionally high standards of care and service.
Additionally, The Glenview at Pelican Bay was named as one of the country's best nursing homes for short-term rehabilitation in a 2021-22 survey by U.S. News and World Report. Its parent company, Life Care Services, has been voted No. 1 for customer satisfaction with an independent senior living community for three years in a row.
The Glenview at Pelican Bay is a proud member of Leading Age Florida, a not-for-profit advocacy group focused on senior care.
About The Glenview at Pelican Bay
The Glenview at Pelican Bay is Florida's only equity ownership, LifeCare Community. The community offers Independent Living as well as Skilled Nursing and Rehabilitation at 5-star rated Premier Place, and Home Care services through our fully licensed Home Health Agency, GlenCare. The Glenview is dedicated to enhancing the quality of life and peace of mind of our residents by providing exceptional personal service and promoting wellness, healthy aging, and lifelong learning. As the premier senior lifestyle community in Southwest Florida, we aim to make a meaningful and measurable difference in the lives of those we serve through our dedication, graciousness, compassion, integrity, and quality of care.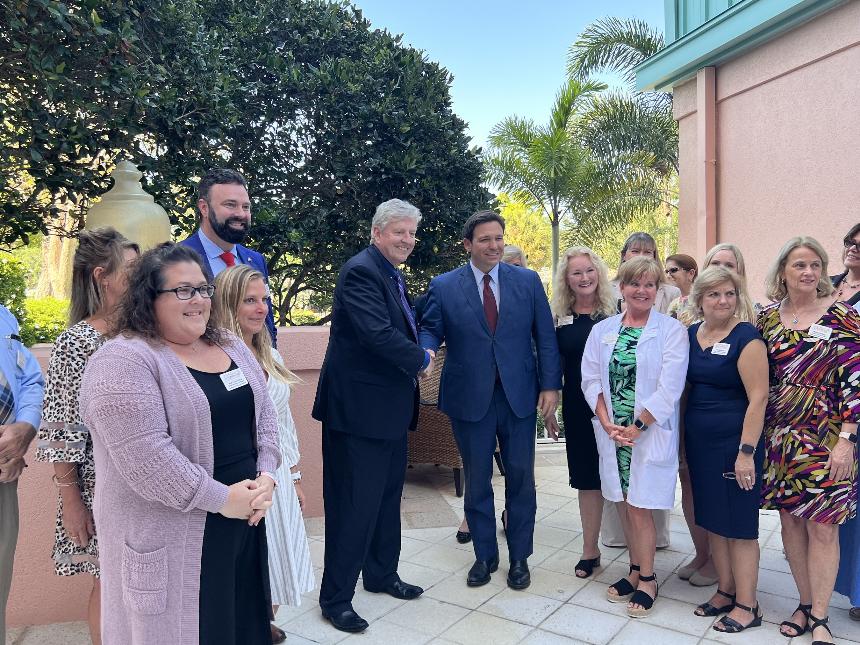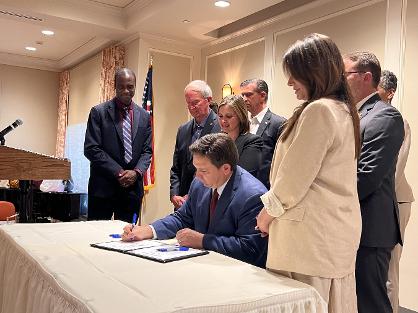 Governor Ron DeSantis signs House Bill 987 and Senate Bill 988 on the campus of The Glenview at Pelican Bay. The new legislation protects visitation rights for nursing home and hospital patients.Governor Ron DeSantis signs House Bill 987 and Senate Bill 988 on the campus of The Glenview at Pelican Bay. The new legislation protects visitation rights for nursing home and hospital patients.
John Distasio Joins Florida Law Group
As an attorney at the Florida Law Group, John C. Distasio specializes in consumer protection and personal injury law. He handles each case with passion and professionalism and is a true advocate. Some of his practice areas include the Fair Credit Reporting Act, Telephone Consumer Protection Act, Fair Debt Collection Practices Act, and Florida Consumer Collection Practices Act.
Prior to joining the firm, John served the people of the State of Florida as an Assistant State Attorney for the 13th Judicial Circuit. He worked alongside some of Florida's most respected prosecutors, trying over one hundred jury and non-jury trials. He handled a caseload in excess of two hundred cases, ranging from DUI to Attempted Murder. During his time as a prosecutor, John earned his Master of Law (LL.M.) in Advocacy from Stetson University College of Law, the number one trial advocacy school in the country.
John received his Bachelor of Arts in Communication Studies from Florida State University, where he graduated cum laude. He later attended Florida International University, receiving his Juris Doctor degree. While in law school, John was a member of the Trial Team and was awarded the Book Award in Florida Law and Procedure.
He has completed internships on both the state and federal level. Most notably, John had the privilege of interning at the U.S. District Court for the District of New Jersey in the Honorable Judge Mark Faulk's chambers. John's previous experiences in the Civil Division at the U.S. Attorney's Office, Middle District of Florida and Office of the State Attorney, 11th Judicial Circuit are some other experiences that have shaped the lawyer he is today.
The Florida Law Group is in Tampa, Florida!
Jeremiah's Italian Ice Awards One Hundred Stores in Under 12 Months
Jeremiah's Italian Ice, one of the most in-demand franchise concepts, has surpassed yet another milestone in its fruitful first year of franchising. The brand launched its highly-anticipated franchise opportunity last May, and in under 12 months, has awarded more than 100 units to 43 franchise partners.
"When we launched the franchise opportunity, our goal was to grow and be able to share our delicious treats with people in markets across the country," stated CEO and Founder, Jeremy Litwack. "Since that time, we have added trusted franchise partners in our home state of Florida, and are eager to be expanding our presence in markets across the South, including North Carolina, South Carolina, Georgia, Texas, and Arizona, to name a few. We are excited to welcome these partners to the Jeremiah's family and can't wait for them to open their doors."
Throughout the Covid-19 crisis, the brand has placed an emphasis on maintaining the health and safety of its employees and customers. Jeremiah's was able to continue to spread joy in the community with their beloved frozen treats through delivery, drive thru service and curbside pickup options. Jeremiah's continues to adapt to society's new normal, pivoting its traditional franchise development efforts to instead host virtual discover days in order to continue connecting with their pipeline of interested franchisee prospects.
The 100th store was awarded to Charles Rankin, a retired FBI Special Agent and Air Force veteran. Rankin and his brother-in-law Angel Areizaga signed a development deal for three Jeremiah's Italian Ice locations in Southwest Florida. It's the same area that Jeremiah's signed its first franchise agreement at the start of their franchise journey with the Frisone family, who plan to open a Naples location this summer.
"We knew that the concept was poised for growth when we first started working with Jeremiah's," stated Cameron Cummins, Co-Founder of Pivotal Growth Partners and Chief Development Officer for Jeremiah's Italian Ice. "I've been involved in franchising for nearly 20 years and I have never seen pent up demand resulting in growth like this before. We are proud of our team for all the hard work they have contributed and are eager to share Jeremiah's delicious frozen treats with communities in new markets across the country."
Founded in 1996 and franchising since May of 2019, Jeremiah's has expanded across Florida and gained a loyal, devoted customer base. Each store boasts an upbeat atmosphere full of vibrant colors and offers over 40 flavors of indulgent high-quality Italian Ice, as well as creamy Soft Ice Cream. A synthesis of these two core products, the Jeremiah's Gelati is the showcase of the menu with layers of Italian Ice swirled with thick, homemade Soft Ice Cream, offering nearly limitless flavor combinations. Jeremiah's franchisees are embedded in the local community and are crucial to helping keep communities shining through tough times. Jeremiah's wants to continue to expand its footprint so people across America can taste how amazing their treats are and to help entrepreneurs make their dreams come true.
Jeremiah's is poised to become the premier frozen dessert franchise of the new decade.
For more information about Jeremiah's, visit www.jeremiahsice.com.
About Jeremiah's Italian Ice
Crocker Partners Unveils Restaurant Row in Midtown Boca
Crocker Partners revealed its vision for Restaurant Row – a 22,500 sf restaurant-only property – to the Community Appearance Board (CAB) on
Tuesday, November 27
. The ultra-modern, innovative design -- developed by
Aaron Gentry
and tvsdesign – features four, 5,000 square foot restaurants with patios and the potential for an additional 2,500 square foot outpost.
The property would be located on Butts Road at Town Center Drive on the site of The Plaza office building. Crocker Partners reacquired The Plaza in 2014 and would leverage the adjoining land to develop the only exclusive restaurant complex ever built in
Boca Raton
.
The property would be located on Butts Road at Town Center Drive on the site of The Plaza office building. Crocker Partners reacquired The Plaza in 2014 and would leverage the adjoining land to develop the only exclusive restaurant complex ever built in Boca Raton.
"The area is highly concentrated with residential communities, office buildings and universities but there's a significant shortage of quality restaurants. We plan to revitalize the area and provide an unparalleled experience for locals and visitors seeking dynamic dining options," said Brett Reese, Senior Vice President at Crocker Partners. "Restaurant Row will connect the Town Center Mall and Boca Center to initiate a true live-work-play environment."
Restaurant Row would also attract the attention of the 14+ million visitors that visit Town Center Mall each year, located directly across the street. Crocker plans to offer four distinct concepts within Restaurant Row – authentic Italian, American gastropub, Japanese sushi and modern Mexican, along with either a dessert shop/café or coffee house – though they have not yet made a final decision on tenants.
"Restaurant Row will be the highest profile site in Boca Raton, especially given its proximity to 95 and the [Town Center] mall," said Tom Prakas of Prakas & Co, who is marketing the site. "The interest globally and nationally has been extremely high. We're at the stage now where we are trying to be selective and choose the right tenant mix,"
In tandem with the development project, extensive interior renovations are also planned for The Plaza.
ABOUT CROCKER PARTNERS
Active in the commercial real estate business for over 35 years, Crocker Partners, LLC has established a reputation as a premier owner, operator, and developer of office and mixed-use projects throughout the Southeast and Southwest United States. Since 1993, Crocker Partners has acquired and managed over 149 properties, totaling 44.3 million square feet and representing $5.2 billion invested. They are currently Florida's largest office landlord and ranked 46th largest office owner. Headquartered in Boca Raton, Florida, Crocker Partners has regional offices in Miami, Jacksonville and Atlanta.
Media contact: Giana Pacinelli, 561-537-4565, gpacinelli@crockerpartners.com