June 2020 - Mondo Italiano Exclusive Interview - Producer Lino Pujia
Q.) Can you share a little about your background and how you got started in the film production industry?
Being the son of a renowned sculptor Antonio Pujia, my contact with art was constant from my birth. I have studied cinema, theater, photography and opera where my training was fundamental since I worked for 10 years as a stage director assistant working with Liliana Cavani, Placido Domingo, Ruggiero Raimondi Harold Prince and the Oscar winners Dante Ferreti, Franca Squerciapino and Eugenio Zanetti and so many others.
Studied cinema and work as a film assistant in different films with Stefania Sandrelli, Chiara Caselli or the great producer Amedeo Pagani, all that gives me the chance to produce and direct different TV programs about cinema, some of them supported by Kodak.
I started to produce and direct short and medium-length films that allowed me to participate in different festivals around the world. My first feature was a documentary dedicated to San Gaetano da Thiene, second patron Saint of Napoli. "The Exhibition", my second film is dedicated to my family. The film was participated in Montreal, Cleveland, Valladolid and other festivals in Europe and America with a good reception from public and critics, later I continued with the experimental work "Primary needs" to finally approach the world of wine with the production of "The duel of wine".
Essendo il figlio di un famoso scultore Antonio Pujia, il mio contatto con l'arte è stato costante dalla mia nascita. Ho studiato cinema, teatro, fotografia e opera dove la mia formazione è stata fondamentale da quando ho lavorato per 10 anni come assistente alla regia con Liliana Cavani, Placido Domingo, Ruggiero Raimondi Harold Prince e i vincitori degli Oscar Dante Ferreti, Franca Squerciapino ed Eugenio Zanetti e tanti altri.
Ho studiato cinema e lavorato come assistente in diversi film con Stefania Sandrelli, Chiara Caselli o il grande produttore Amedeo Pagani.
Con queste esperienze ho incominciato a produrre e dirigere diversi programmi TV sul cinema, alcuni sponsorizzati dalla Kodak.
Ho iniziato a fare cortometraggi che mi hanno permesso di partecipare in diversi festival in tutto il mondo. Il mio primo lungometraggio è un documentario dedicato a San Gaetano da Thiene, secondo santo patrono di Napoli. "The Exhibition" il mio secondo film è dedicato alla mia famiglia, il film è stato partecipato a Montreal, Cleveland, Valladolid e altri festival in Europa e in America con una buona accoglienza da parte del pubblico e della critica, in seguito ho continuato con un lavoro sperimentale "Primary needs" per avvicinarmi finalmente al mondo del vino con la produzione di "il duello del vino".
Q.) Do you have a favorite part of Italy?
Yes, Italy! all, whole and complete ... indivisible, I love it for its beauty and diversity. I think it is the most beautiful country in the world with a unique heritage.
In fact, in my films we always see different regions, geographies, art and cultures from Italy that somehow bring the viewer closer to feeling and sharing our feelings.
Sì, tutta l'Italia! intera e completa ... indivisibile, la adoro per la sua bellezza e diversità. Penso che sia il paese più bello del mondo con un patrimonio unico.
In effetti, nei miei film vediamo sempre diverse regioni, arte e culture italiane che rappresentano la nostra diversità, in qualche modo cerco di avvicinare allo spettatore condividere i nostri sentimenti.
Q.) Can you recommend an all time favorite food and wine pairing?
They are infinite, quality is found throughout Italy with an infinite variety of high quality. I think that the pairing of wine with food depends a lot on the place and the company, so the combination becomes something complex and fascinating, sublime: Italy itself.
Sono infinite, la qualità si trova in tutta Italia con un'infinita varietà di alta qualità. Penso che l'abbinamento del vino con il cibo dipenda molto dal luogo e dalla compagnia, quindi la combinazione diventa qualcosa di complesso e affascinante…sublime: l'Italia stessa.
Q.) Do you have a favorite wine?
Surely Barolo and Brunello de Montalcino are the great protagonists of Italian wine today due to its complexity and intensity, but naturally also due to its history. Anyway, the list is long and we cannot stop talking about the Amarone, Chianti Classico, Prosecco, Sagrantino, Taurasi, Cannonau, talk about the pleausure of the Italian wine and food… something like the catalog Leporello's aria from the of the Don Giovanni Opera, the Mozart masterpiece.
Sicuramente il Barolo e il Brunello di Montalcino sono oggi i grandi protagonisti del vino italiano per la sua complessità e intensità, ma naturalmente anche per la sua storia. Comunque, la lista è lunga e dobbiamo parlare dell'Amarone, Chianti Classico, Prosecco, Sagrantino, Taurasi, Cannonau… parlare del piacere del vino e del cibo italiano e come parlare dell'aria del catalogo di Leporello dal Don Giovanni, il capolavoro di Mozart.
Q.) Favorite actor of all time?
Impossible choose one, there are a lot…from Charles Chaplin, Laurence Olivier, Anthony Quinn, Max Von Sydow, Peter Sellers, Toshiro Mifune…but Chaplin was the first great master, his human legacy is immense.
Impossibile sceglierne uno, ce ne sono molti ... Charles Chaplin, Laurence Olivier, Anthony Quinn, Max Von Sydow, Peter Sellers, Toshiro Mifune, Robert de Niro ... ma Chaplin è stato il primo grande maestro, il suo dono a l'umanità è immenso.
Favorite up and coming actor?
I don't know.
Non saprei.
Q.) Tell our readers a little about the upcoming movie you are producing?
Our film "The duel of wine" starring Charlie Arturaola has toured much of the United States and contact with its representatives, from diplomats, chamber of commerce managers, distributors, journalists and the public…they have given us the opportunity to get to know the Italian community in the USA, from that perspective the publication and its dissemination reaches our hands, and because, why not? I follow Jay Shapiro closely on internet, it is a reference of the Italians in Florida.
Il nostro film "Il duello del vino" con Charlie Arturaola ha girato gran parte degli Stati Uniti, abbiamo conosciuto tanta gente: diplomatici, distributori, giornalisti e pubblico ... ci hanno dato l'opportunità di conoscere la realtà delle comunità italiane negli Stati Uniti, da li che è arrivato alle nostre mani le pubblicazioni vostre, e perché, perché non dirlo?: Seguo da vicino Jay Shapiro su Internet, secondo me è un riferimento degli italiani in Florida.
Q.) How did you meat Charlie?
I met Charlie at the San Sebastian film festival, he was presenting "The ways of wine" and I had been chosen to present a project. We met and quickly understood that we should make a global film "made in Italy", why?
Because is important show the the people the Italian life style with their people, wine, food, palazzos….and Charlie was the perfect star.
We got to work and filmed in Italy, in spaces like "Salone del 500" in Firenze, the "Hotel Danieli" in Venezia, Montefalco in Umbria, the Soave Castel, Sardegna and of course in Barolo. Alaways was important to insert Italian wine in scenes in USA, so we shooted at the Tribeca grill from Robert De Niro in NYC and in florida itself, in Miami where Charlie drives a taxi on ocean drive, then France… le grand theatre Chatellet in Paris... well, a trip inside another trip. Charlie is an exceptional person and personality, he has a great interior light capable of radiating and attracting people's attention, his charisma and sympathy have no limits, although he is a great name inside the community of wine, for me, personally it means much more than that, even when he defines himself as a soldier of wine for me he is a guru of positivity.
Ho incontrato Charlie al festival del cinema di San Sebastian, stava presentando "Il camino del vino" ed io ero stato scelto per presentare un progetto di film. Ci siamo conosciuti e abbiamo capito rapidamente che dovevamo realizzare un film globale "made in Italy", perché?
Perché è importante mostrare alle persone lo stile di vita italiano con la loro gente, vino, cibo e tante altre cose, Charlie era il personaggio perfetto.
Abbiamo lavorato e girato in Italia, in luoghi come il "Salone del 500" a Firenze, l '"Hotel Danieli" a Venezia, Montefalco in Umbria, il Castello del Soave nel Veneto, la Sardegna e ovviamente a Barolo in Piemonte. E stato importante inserire il vino italiano nelle scene girate negli Stati Uniti, quindi abbiamo filmato nel Tribeca Grill da Robert De Niro a New York e nella stessa Florida, a Miami dove Charlie guida un taxi sull'ocean drive! poi in Francia nel il gran teatro Chatellet a Parigi ... beh, un viaggio dentro un altro viaggio. Charlie è una persona e una personalità eccezionale, ha una grande luce interiore in grado di irradiare e attirare l'attenzione della gente, il suo carisma e simpatia non ha limiti, anche se è un grande nome all'interno della comunità del vino, per me, personalmente significa molto di più, anche quando lui si definisce un soldato del vino per me, io lo chiamo il guru della positività.
Q.) Anything additional you'd like to share with respect to the value of this film to its viewers?
Our new project talks about the importance of respecting and preserving the environment ... we are talking about a wine film, so it is told through a fun spy comedy. In the plot Charlie invents new legislation, but not all power groups agree, Charlie himself must become a spy to discover who is plotting them. I am working with John Osborne and Chris Sawyer, the great sommelier in California where we meet the owners of wineries as Hess, Roederer, Williamson, Farniente…..in Italy with Alessandro Rossi from Partesa and Davide Gangi from VinoWay seeing locations in Emilia-Romagna, Veneto, Campania, Puglia ... wineries such as Sandro Bottega, Feudi di San Gregorio or the Brunello di Montalcino consortium itself have participated with us in the Venice Film festival where we have presented the project, a nice event with dinner dedicated to the President of the European Parliament.
Il nostro nuovo progetto parla dell'importanza di rispettare e preservare l'ambiente ... stiamo parlando di un film sul vino, quindi viene raccontato attraverso una divertente commedia di spionaggio. Nella trama Charlie inventa una nuova legislazione, ma non tutti i gruppi di potere sono d'accordo, Charlie stesso deve diventare una spia per scoprire chi si nasconde dietro questi gruppi. Sto lavorando con John Osborne e il grande sommelier Chris Sawyer in California, dove abbiamo incontrato la gente delle cantine Hess, Roederer, Williamson, Farniente… in Italia con Alessandro Rossi di Partesa e Davide Gangi di VinoWay stiamo lavorando con Emilia-Romagna, Veneto, Campania, Puglia ... cantine come Sandro Bottega, Feudi di San Gregorio o lo stesso consorzio Brunello di Montalcino hanno partecipato con noi al festival del cinema di Venezia dove abbiamo presentato il progetto.
Un bell'evento con cena dedicata al Presidente del Parlamento europeo.
Q.) When will the movie be released and how can people watch it?
The film should have started shooting in September 2020 but the pandemic does not allow us to know until when we must postpone it. Today platforms like Netflix allow an audience of millions of people on the planet, our film could be seen by millions even when for us is very important the contact with people in film and wine festivals. "the duel of wine" was presented in more than 70 cities in the world, more than 20 film fests and countries… I remember the words from Marco Caprai during the premiere dinner at lido "we made the first Italian Wine film from the story", not bad a wine film comedy!
Il film avrebbe dovuto iniziare le riprese a settembre 2020 ma la pandemia non ci consente di sapere fino a quando dovremo rimandarlo. Oggi piattaforme come Netflix consentono a un pubblico di milioni la possibilità di vedere tantissimi film, il nostro prodotto potrebbe essere visto da milioni anche quando per noi è molto importante il contatto con le persone nei festival di cinema e vino. "Il duello del vino" è stato presentato in oltre 70 città del mondo e oltre 20 festival cinematografici in diversi paesi ... ancora ricordo le parole di Marco Caprai durante la cena della premiere al Lido " abbiamo fatto il primo film Italiano di vino della storia" non male una commedia cinematografica sul vino!
Q.) Anything additional you'd care to share?
I'll hope that we could began again to do our normal life on the world, that depends for everyone…it's time to reflect how to change it for better.
Spero che tra poco potremmo ricominciare a fare la nostra vita normale, dipende da tutti ... è tempo di riflettere su come cambiare il nostro pianeta e le nostre abitudini in meglio.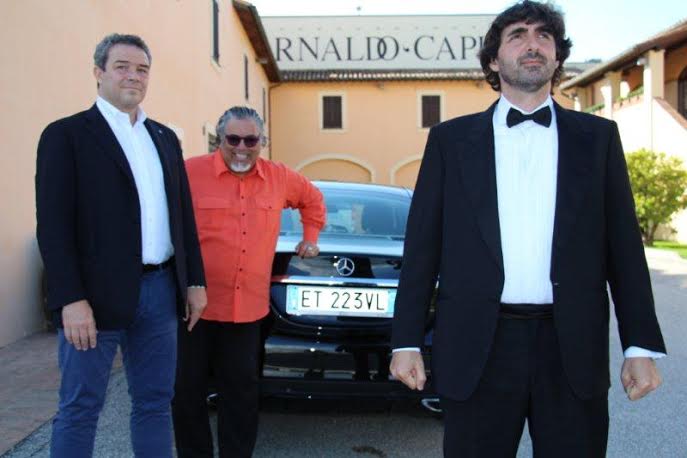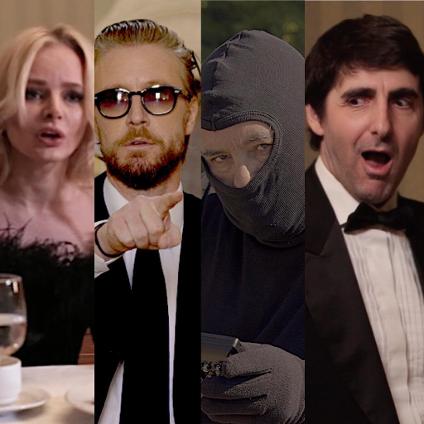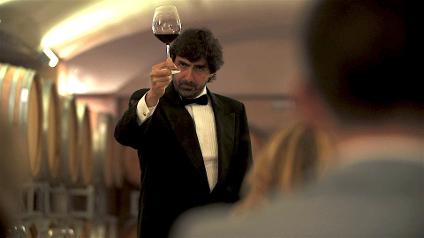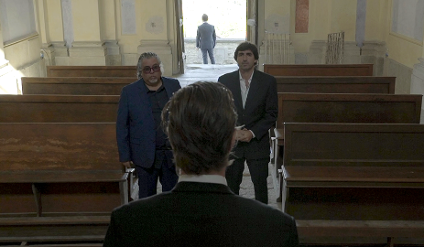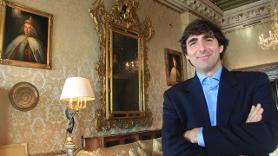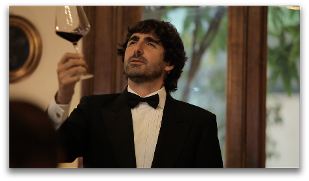 ____________________________________________________________________________________________________________________
© All Rights Reserved -
Mondo

Italiano
Magazine

2000 - 2020