La Befana Events 2018 in Florida
Jacksonville, FL - La Pizza de La Befana
Saturday January 6th 2018
What better way to kick start the new year than with friends and pizza?
Will meet a V pizza in San Marco "per fare due chiacchiere" and celebrate the Befana.
Pronounced [beˈfaːna], she is an old witch who delivers gifts and candies to the "bambini bravi" and coal to the "bambini cattivi"
A sign-up sheet for the Intermediate Italian Course will also be available for those who are interested
A presto
Danila, Clara e Eli
The link: https://www.meetup.com/italian-475
Boca Raton, FL - La Befana Epiphany Day Lecture - Treasures of the Uffizi with Rocky Ruggiero Ph.D.
Saturday January 6th 2018 at Arturo's Restaurant in Boca Raton. Proceeds will go to "Friends of the Uffizi Gallery"
Noon - 3pm. $65.00 per person. See flyer below: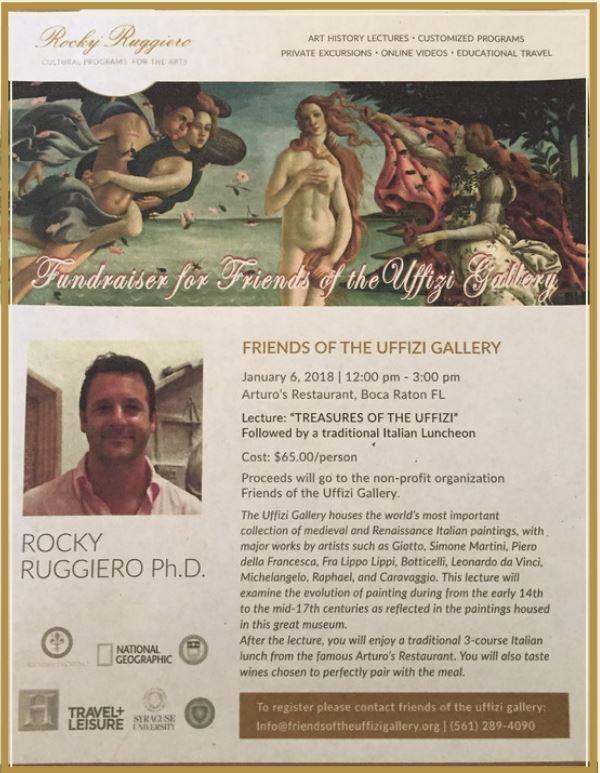 ____________________________________________________________________________________________________________________
© All Rights Reserved -
Mondo

Italiano
Magazine

2000 - 2018