La Centrale Food Hall to Open February 16th 2018
Miami will be able to compete with larger cities such as Boston on an Italian food level
Miami's highly anticipated food hall concept, La Centrale – Italian Food Hall, (pronounced Chen-TRAH-leh), will open to the public Feb. 16 at Brickell City Centre, the city's newest retail, dining and entertainment epicenter in the heart of Brickell located at 701 S. Miami Avenue. The opening of the Miami location will mark the brand's first food hall in a national expansion to cities such as Atlanta and Boston.
Conceptualized by notable NYC restaurateur Jacopo Giustiniani, alongside retail and food hall expert Matthias Kiehm, La Centrale introduces 14 different Italian eateries and five chic bars spanning three levels and more than 600 seats. Dining options range from grab-and-go food counters to casual dining eateries to upscale, sit-down restaurants.
The 40,000 square-foot food hall boasts an expansive retail component that will elevate the pantry of any seasoned chef or aspiring foodie. Throughout the three levels, guests can explore and purchase from a selection of over 1,000 Italian retail products and first-to-Miami specialty items. Shoppers can also find a diverse range of grocery staples, such as meats, fish, bread, cheese and more as well as 500 different wine labels for purchase at La Centrale's wine shop.
Tuscan-born Vincenzo Scarmiglia (formerly of Vegas hotspots like GIADA at The Cromwell) takes the helm as executive chef of La Centrale's eateries and menus, which are each unique to the 20 different Italian regions from where they are inspired. Specialty ingredients will be imported to Miami from a variety of regions in Italy, while fresh produce will be delivered each morning from local farms. Signature products, including pastas, cheeses, sauces, are handmade in-house. Dining at La Centrale will be approachable to all customers and palates; guests can indulge anywhere between a $2 premium Lavazza espresso and a $58 branzino fish entrée imported from the Italian coastal town of Orbetello.
Designed by Miami-based Urban Robot Associates, La Centrale's spaces are lively, bright and sophisticated with painstakingly chosen details sourced directly from Italy's iconic designs and architecture. Each restaurant space takes inspiration from a different region of Italy.
What's more, visitors can hone their own cooking skills and recreate their favorite La Centrale dishes at home by purchasing the same ingredients used by the food hall's chefs. Recipe cards with shopping lists can be found in La Centrale's retail sections to guide shoppers in trying their hand at a variety of the food hall's signature dishes.
La Centrale's Personal Shopper program takes the shopping experience even further by allowing diners seated at the restaurants to check-mark desired ingredients off a special grocery list menu to hand over to a waiter. La Centrale's personal shopper will then get to work on collecting the ingredients while guests enjoy their meal. When the check arrives at the end of the meal, so will the selected grocery items to take home.
Diners on-the-go will also have the option to skip the line, pre-order and pay for select items and ready-to-go meals directly from La Centrale's mobile app, which will also allow users to earn loyalty rewards, tune into La Centrale's curated Spotify playlist, and purchase and send gift cards.
"Miami is in its Golden Age with new museums, a high-speed rail system coming soon and institutions it's never had before, it is one of the most dramatic urban success stories in the US. The city has long-been ready for a level of culinary experience to match its other rich cultural staples," said Matthias Kiehm, co-managing partner of La Centrale. "South Florida has a great appreciation for authentic food tied to its diverse and deep cultural roots, so choosing Miami as our first outpost for La Centrale was a natural choice."
"Seeing La Centrale come to life - walking its floors, feeling its textures and tasting its flavors - evokes vivid memories of the culture and cuisine that I grew up surrounded by in Florence," said Jacopo Giustiniani, co-managing partner of La Centrale, "The team and I are eager to welcome our community to experience this slice of Italy right here in Miami."
LEVEL ONE
La Centrale's first level is designed like a classic Italian piazza and offers fresh, quick-service dining options for breakfast, lunch, dinner and weekend brunch with a focus on Italian street food.
Caffé: The Sicilian-inspired Caffé is an intimate setting for all-day fare, serving a variety of all-day breakfast and brunch menus items, fresh salads and signature Italian dishes. Caffé is also home to La Centrale's Pasticceria, which sells freshly-made Italian cannolis, pastries, cakes and more. Open from 8 a.m. – 11 p.m.
Mercato: Evoking the great markets found in Italy, guests can discover and purchase rare Italian specialty goods and indulge in La Centrale's six grab-and-go counters, including Espresso, Salumi E Formaggi, Insalate, Focacceria, Rosticceria and Pronto, which will sell ready-to-go hot Italian meals. Open from 7 a.m. – 9 p.m.
Pizza E
Pasta: A rustic pizza and pasta eatery, Pizza e Pasta is La Centrale's casual, family-style restaurant serving house-made Neapolitan pizzas cooked in traditional wood fired ovens. Adjacent to Pizza e Pasta, onlookers can spot artisanal pasta-makers at their craft through the Pastificio counter, which will sell house-made pastas to take home. Open from 12 p.m. – 11 p.m. Sunday through Thursday and 12 p.m. – 12 a.m. Friday and Saturday.
LEVEL TWO
La Centrale's second level houses its three major sit-down restaurants, its signature Aperitivo Bar and a chocolate and gelato eatery run by the food hall's only third-party partner and Italy's preeminent chocolatier, Venchi. On this level, guests can also purchase fresh seafood from the fish market, prime cuts of meat from the meat market, house-made mozzarella and explore more specialty retail items.
Aperitivo Bar: Located in the center of level two and surrounded by 14-foot Mediterranean olive trees, Aperitivo is the heart of La Centrale's second floor, serving as a lively craft cocktail bar featuring a performance stage for live music and entertainment. Open from 12 p.m. - 12 a.m. Sunday through Thursday and 12 p.m. - 1 a.m. Friday and Saturday.
Carne: Inspired by the rustic décor of Chianti, Carne is a true Italian butcher shop, with the best cuts of meats cooked in a traditional wood-fired grill, a dry age meat locker with meats dry-aged for up to 48 days and full bar. The tiles adorning the floors and ceilings in Carne are from the same terracotta suppliers used to reconstruct the famed 13th century Duomo of Firenze in Florence. Open from 12 p.m. - 11 p.m.
Pesce: Pesce evokes the spirit of a seaside restaurant along the Italian Riviera and serves the freshest fish South Florida and the Mediterranean have to offer, including a Bollicine/ Crudo Bar alongside a fresh fish and seafood display where one can order to dine in or to have wrapped to take home. Open from 12 p.m. - 11 p.m.
Stagionale: Stagionale is La Centrale's seasonal, plant-based restaurant serving a variety of dishes with fresh produce, risottos, seasonal truffles and fresh, hand-pulled mozzarella, inspired by the Veneto region and modeled after an Italian winter garden. Open from 12 p.m. - 11 p.m.
Venchi: The famed Italian gelateria and chocolatier will serve 16 flavors of gelato, over 80 types of chocolate products, crepes, signature Italian espresso drinks and two decadent chocolate fountains. Open 10 a.m. - 11 p.m. Sunday through Thursday and 10 a.m. - 12 a.m. Friday and Saturday
LEVEL THREE
Guests will find an Italian wine mecca on the third floor, which will offer sommelier-led wine tastings and pairings. The third level will feature a wine shop, a Tuscan-inspired wine bar with a fritti menu selection and small plates and a tasting room, all focusing mostly on Italian wines.
Bottega
Del Vino: Serving as La Centrale's wine and liquor shop, Bottega Del Vino will feature over 500 labels and 4,000 bottles of wines and will play host for various types of wine programming. Open 10 a.m. - 9 p.m.
Cantina: This premier private event space is designed for specials events from 10 to 50 guests. It features communal seating, daily prix-fixe menu options, and an experience that parallels that of a private wine cellar.
Enoteca: The heart of La Centrale's third floor is its vibrant enoteca, which captures the essence of a traditional Tuscan winery and offers 30 wines by the glass through a Napa Tech dispensing system. In addition to wine, a small bites menu including a curated selection of fritti and crostini dishes to complement the wines will be offered alongside a $20 prix fixe menu for lunch and dinner will be featured daily. Open 12 p.m. - 10 p.m.
La Cucina: The state-of-the-art cooking and event studio will offer patrons a chance to learn the various preparation and cooking techniques of Italian cuisine, all while working with the finest authentic ingredients and under the instruction of La Centrale's in-house and visiting celebrity chefs. La Cucina will also act as an event and dining space for private parties, book signings, guest chef takeovers, wine tastings, free kids cooking classes and more.
La Riserva: With 20-foot vaulted ceilings and floor-to-ceiling terracotta tile, La Riserva serves as the premium wine vault for La Centrale, featuring exclusive vintage wines. The space will also feature rotating pop-ups and trunk shows for partner brands and Italian wine regions.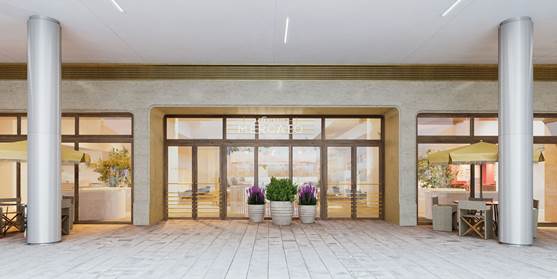 About La Centrale
La Centrale is Miami's premier Italian food hall, a gastronomic emporium bringing the sights, sounds, and tastes of Italy to Miami, located right in the heart of the city's newest urban shopping dining and entertainment epicenter, Brickell City Centre (BCC). Conceptualized by notable NYC restaurateur Jacopo Giustiniani, alongside retail and food hall expert Matthias Kiehm, La Centrale introduces 14 different Italian eateries, cafes, and shopping options spanning three levels and ranging from grab-and-go food counters to casual dining to markets to upscale sit-down restaurants. Each of the diverse dining experiences at La Centrale takes direct inspiration from one of 20 prominent food regions of Italy, transporting diners to Tuscany, Liguria, Sardinia, Sicily, Lombardy and Apulia — all beneath a single roof. In addition to the restaurants, the food hall will feature an expansive wine section, a gelato shop, a cooking and event studio and multiple chic and lively cocktail bars. What's more, diners can try their hand at cooking La Centrale's signature dishes at home with the guidance of complimentary recipe cards and shopping lists of the ingredients to purchase for each unique menu item. La Centrale expresses itself through the lens of a stylish Italian holiday in a classic Italian seaside setting. Visitors will experience the same joys of the Italian culinary tradition as one would on a trip to Italy itself. La Centrale is located at 701 S Miami Ave, Miami, FL 33131. For more information visit www.lacentralemiami.com
About Jacopo Giustiniani
Jacopo Giustiniani, a native of Italy, has wine culture in his blood. Surrounded by oenophiles, he was raised between his family's winery, the Fattoria Sardi in Lucca, and his hometown of Florence. In December 2007, Jacopo turned his passion for preserving the traditions of Italian wines into Felice Wine Bar in New York City. Through Felice, Jacopo brings New Yorkers a personal experience into based on his cultural values and his family's legacy. During his formal education at Universita di Firenze, he spent a lot of time overseeing and learning at his family winery. The Fattoria Sardi includes 47 acres of vineyards located in the renowned wine region of Colline Lucchesi. After earning a business degree in 2004 and a Master's degree in 2006, Jacopo moved to the US to become a wine buyer for SA Hospitality Group.
About Matthias Kiehm
Matthias Kiehm has more than 25 years of experience in the business of hospitality. Under numerous progressively responsible roles, Matthias has accumulated significant and consistent success in managing and leading both established and nascent companies, and literally thousands of employees, establishing a reputation for outstanding professionalism. Matthias has spent the majority of his career in directorial and managerial roles worldwide with Four Seasons Hotels & Resorts in Los Angeles, Boston, Chicago and Sharm El Sheikh and left the company in 2006 as General Manager. His understanding of both domestic and international business practices aids in his ability to present and execute well-conceived and beneficial initiatives. Among his more- significant positions, Matthias served as the Business Director - Food at the prestigious Department Store Harrods in London. In a span of three and a half years, Matthias successfully developed and opened 12 restaurants at Harrods Food Hall and negotiated various new and highly-successful concession partners to Harrods. Matthias was simultaneously responsible for administering all catering operations for the English Premiere League's Fulham Football Club, and was the Vice President of the Ritz Hotel in Paris. This hands-on experience together with his international relationships and expertise led Matthias to found MK Global Hospitality Group where he currently serves in a variety of senior consulting roles in the United States, Europe and Asia.
About Brickell City Centre
Brickell City Centre is a landmark $1.05 billion, 4.9 million square-foot, mixed‐use development in downtown Miami from Swire Properties Inc, one of South Florida's leading international developers of real estate known for its $1 billion master‐planned development of Brickell Key. The project's first phase includes a 500,000-square-foot luxury and premium retail centre, two residential towers, the 352-room East, Miami hotel and two mid-rise office towers. The project is LEED®-registered for Neighborhood Development – currently one of the largest in the U.S. Sustainability elements include the $30 million CLIMATE RIBBON™; a masterpiece of art and science, the elevated trellis will span 150,000 square feet, connecting the project's three city blocks and acting as an environmental management system. As the largest private-sector project currently under construction in Miami, Brickell City Centre began vertical construction in 2013. More information is available at www.brickellcitycentre.com
____________________________________________________________________________________________________________________
© All Rights Reserved -
Mondo

Italiano
Magazine

2000 - 2018