Sebastian Maniscalco Comes to Florida - Local 2018 Tour Dates:
November 23rd in Fort Myers, FL at the Barbara B. Mann Performing Arts Hall / 7:00PM & 9:30PM
December 27th in Sunrise, FL at the BB&T Center / 8:00PM
December 28th in Tampa, FL at the Straz Center for the Performing Arts / 7:00PM
December 29th in Orlando, FL at the Dr. Phillips Center for the Performing Arts / 7:00PM
December 30th in Jacksonville, FL at the Times-Union Center for the Performing Arts / 7:00PM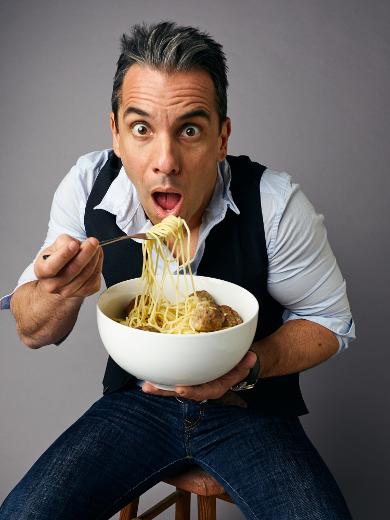 Sebastian has made a deal with Lionsgate to develop a multi-generational comedy he will executive produce, cowrite with Austen Earl (The Great Indoors) and star in. Inspired by his stage routines, which touch on his Italian American family the script will follow two families from different worlds celebrating their first summer holiday together.
Maniscalco was included on Forbes' 2017 list of "The World's Highest Paid Comedians" where they praised, "thanks to his enthusiasm and willingness to work, Maniscalco will likely continue to be on Forbes' list for years to come." Dubbed "one of the hottest comics" by Newsday and "one of the funniest comics working stand-up today" by Esquire, Sebastian's live performance has become a critically-acclaimed event, with the Los Angeles Times raving, "onstage, there's an impatience to Maniscalco's delivery as well, a hair-trigger exasperation with people and modern life, punctuated with baffled expressions, percussive thumps on the microphone and wide-swung leg kicks more associated with an Olympic speed-skater than a stand-up comic."
Instead of asking questions – a theme that has served as the foundation for his previous comedy specials and shows like Aren't You Embarrassed? and Why Would You Do That? – Maniscalco's new tour has the affable performer instead encouraging fans to follow in his footsteps and "stay hungry."
Check out his larger than life animated comedy style that elevated him to the top of his game https://vimeo.com/levityentgroup/sebastianmaniscalco.
Showtime: Fri. 7:00PM / Visit: sebastianlive.com
For Tickets Call: 813-229-7827 / Tickets start at $43.50, See website for VIP
The Straz Center for the Performing Arts is located at 1010 N. W.C. MacInnes Pl. Tampa, FL 33602
Complete Tour Dates Roster:
Fall 2018 Stay Hungry Tour:
Sept. 8 Greek Theatre – Los Angeles, CA
Sept. 13 Wells Fargo Center – Philadelphia, PA
Sept. 14 F.M. Kirby Center – Wilkes-Barre, PA
Sept. 15 Palace – Albany, NY
Sept. 21 Masonic – San Francisco, CA
Sept. 22 Vina Robles Amphitheatre – Paso Robles, CA
Sept. 27 Riverside – Milwaukee, WI
Sept. 28 State – Minneapolis, MN
Sept. 29 Weidner Center – Green Bay, WI
Oct. 7 Colosseum at Caesars Palace – Las Vegas, NV
Oct. 12 First Ontario Centre – Hamilton, ON
Oct. 13 Casino Rama – Rama, ON
Nov. 2 Mohegan Sun Arena – Uncasville, CT
Nov. 9 Bass – Austin, TX
Nov. 10 Majestic – Dallas, TX
Nov. 11 Cullen – Houston, TX
Nov. 16 Meyerhoff – Baltimore, MD
Nov. 17 Carolina Theatre – Durham, NC
Nov. 18 Fox – Atlanta, GA
Nov. 23 Barbara B. Mann – Ft. Myers, FL
Nov. 30 Northern Jubilee Auditorium – Edmonton, AB
Dec. 1 Southern Jubilee Auditorium – Calgary, AB
Dec. 2 Queen Elizabeth Theatre – Vancouver, BC
Dec. 27 BB&T Center – Sunrise, FL
Dec. 28 Straz – Tampa, FL
Dec. 29 Walt Disney Theater – Orlando, FL
Dec. 30 Moran Theatre – Jacksonville, FL
____________________________________________________________________________________________________________________
© All Rights Reserved -
Mondo

Italiano
Magazine

2000 - 2018