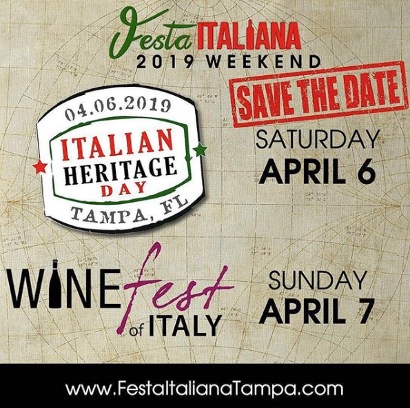 The Italian Community of Tampa, FL / Ybor City
Tampa is home to one of the most historic Italian communities in the state. The Italians who emigrated to Tampa in the 1880's mostly came from the Sicilian towns of Santo Stefano and Alessandria Della Rocca. The Italian Union of Tampa was founded in 1894 and is still going strong today. The founding chapter consisted of 116 Italian and eight Spanish speaking immigrants. The Italian-Club of Tampa can be found at: italian-club.org and membership is only $150 per year! The Tampa Ybor City Festa Italiana is held in springtime every year and is probably the best and largest Italian festival in Florida or size wise it might compare to Feast of Little Italy in Jupiter, FL. In any case this is the Festa worth driving across the state for or perhaps even flying in from somewhere else. The oldest restaurant in Florida is the Columbia and although its a Cuban restaurant and not Italian the family grandmother incorporates Italian sausage and other Italian elements into many of the family recipes and Cesar Gonzmart has been awarded the Pizzo award and many other honors bestowed on him by Italians and vice versa. Tampa is perhaps the most unique Italian community in the USA in that the community has shared and gotten along with other immigrants in such a manner never before heard of in other U.S. immigrant cities.
Tampa is home to some great Italian haunts. If its live Jazz you're in the mood for consider Donatello on Dale Mabry Highway. If you'd like to depart form Sicilian tradition and try something a but more Tuscan there is always La Terraza on 7th Ave. If you're looking for traditional Southern Italian cuisine or cooking classes you will certainly want to visit Piccola Italia Bistro on Armenia Road. Its a small joint painted 100% like and Italian flag and the food is some of the best around. If its Italian cheeses you're after you can't go wrong with Mozzarella Bar. Located on Neptune Street near Henderson Blvd they are a cheese lovers dream come true. Charcuterie, Olive Oil Tastings, street food samples from north central and southern Italy. If you consider yourself a foodie then Mozzerella Bar is the one for you!!
If Opera is your passion then check out the Straz Center for the Performing Arts. Billionaire founder David Straz can oftentimes be spotted at Donatello Restaurant!
____________________________________________________________________________________________________________________
© All Rights Reserved -
Mondo

Italiano
Magazine

2000 - 2018