Welcome to Mondo Italian Magazine's Naples Page. The very name of the city Naples conjures of images of Italy. Mondo Italiano has traditionally been a South Florida publication yet proud to announce that we are in the process of launching in ?Naples and statewide. We will be providing information, resources, events and advertising opportunities for every major city in Florida. Please send us your news at: pleaseadvertise@gmail.com We also have an amazing advertising package that includes the banner ad above, a social media package and a full page ad in our turnpage online magazine located at: floridaitalian.com click the banner above to find out more!
Prominent Italians / Italian Americans in Naples
Carl Santoli
- President of Naples Italian American Foundation
Roger Guidice - Publisher
Carmine Errico - Physician
Donna Fiala - Commissioner
Kathy Passidomo - State Senator
Josephine Gagliardi - County Judge
Joseph Crivelli - President Italian Cultural Society
Bob Stocio - Marine Industry
Nadia Taliceo - Italian Instructor
Nick Casalanguida - County Manager
Michael Bosi - City Planner
Julia Serravalle - Restaurateur
John Denero - Businessman
Barbara Cangialosi - Business Owner
Luca DiFalco - Businessman
Jennifer Garguglio-Maffei - Restaurateur
Frank Piazza - Lawyer
Kevin Denti - Attorney
Jason Palmisano - Esquire
Bob Pisa - Real Estate Developer
Ketan Trivedi - Physician
Notable Italian Restaurants in Naples
Osteria Tulia
- 466 5th Ave So.
Alberto's on 5th - 868 5th Ave So.
Caffe Milano - 800 5th Ave So.
BiCE - 300 5th Ave So.
D'Amico & Sons - 4691 9th St
Ristorante Ciao - 835 4th Ave So.
Parmesan Pete's - 7935 Airport Pulling Rd.
Joey D's - 2356 Immokalee Rd
Trattoria Abruzzo - 835 Vanderbuilt Beach Rd.
Caffe dell'Amore - 1400 Gulf Shore Blvd
Dolce & Salato - 300 5th Ave So.
Local Organizations in Naples
Naples Italian American Foundation -
7035 Airport Pulling Rd
Italian Cultural Society - 3200 Bailey Lane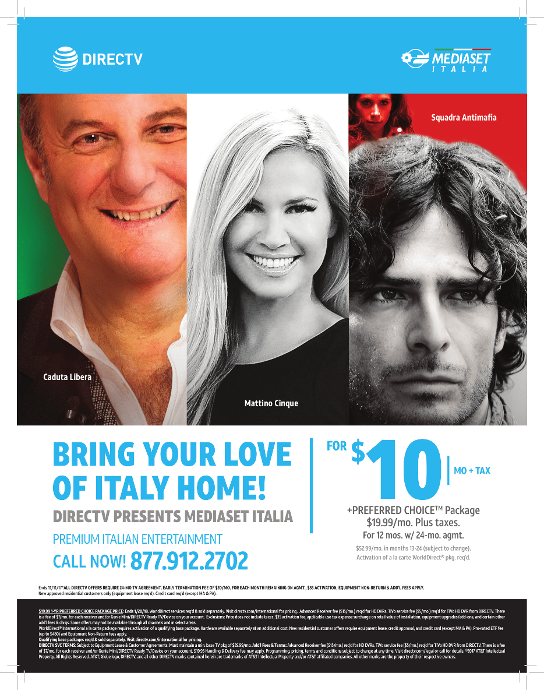 Mondo Italiano - Notizia Italiana di Naples, Florida - Italian and Italian American News and Events in Collier County. Please email us your events and press releases to: pleaseadvertise@gmail.com
____________________________________________________________________________________________________________________
© All Rights Reserved -
Mondo

Italiano
Magazine

2000 - 2018