Sophia Loren - Italian Legend and Icon of Youth is admired by Floridians and Italians Alike
Sophia Loren, the iconic Italian actress, is not only renowned for her exceptional talent but also for her exquisite taste in real estate. One of her most notable properties is her luxurious estate on Williams Island. Situated in Aventura, Florida, this magnificent residence perfectly captures the essence of elegance and opulence. The estate, nestled amidst lush greenery and overlooking breathtaking waterfront views, showcases the perfect blend of Mediterranean charm and contemporary design. With its sprawling grounds, meticulously manicured gardens, and a private marina, Sophia Loren's Williams Island estate is a true testament to her impeccable style and refined living. The property is a haven of tranquility, offering an array of amenities such as a state-of-the-art spa, a tennis club, and multiple swimming pools. Inside, the residence boasts spacious living areas adorned with exquisite artwork, luxurious furnishings, and stunning architectural details. Sophia Loren's Williams Island estate is an embodiment of grace and grandeur, reflecting the timeless allure of both the actress and the location itself.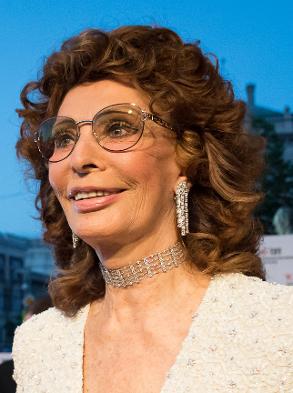 Academy Awards: Sophia Loren won the Academy Award for Best Actress in 1962 for her performance in the Italian film "Two Women" (La Ciociara). She became the first actress to win an Oscar for a non-English language performance.
International Recognition: Loren's talent and charisma garnered international acclaim, leading to numerous awards and honors from prestigious film festivals and organizations worldwide. She received the Cecil B. DeMille Award at the Golden Globes in 1995 for her outstanding contributions to the entertainment industry.
Iconic Roles: Throughout her career, Loren delivered memorable performances in films like "Marriage Italian Style," "Yesterday, Today, and Tomorrow," "A Special Day," and "Sunflower." Her versatile acting skills allowed her to portray a wide range of characters, from dramatic roles to comedic ones.
Cultural Ambassador: Loren's success transcended borders, making her a cultural ambassador for Italy. She represented her country's film industry with elegance and grace, becoming a symbol of Italian beauty and talent around the world.
Lifetime Achievement: In 1991, Loren received an honorary Academy Award for her contribution to cinema. This prestigious recognition celebrated her outstanding body of work and her impact on the film industry.
Philanthropy: Beyond her achievements as an actress, Sophia Loren has been involved in various charitable endeavors. She has worked with organizations like UNICEF and the World Food Programme, using her influence to raise awareness and funds for humanitarian causes.
Parts Known for:
Quo Vadis (1951) - Extra (uncredited)
Aida (1953) - Aida
Two Nights with Cleopatra (1954) - Cleopatra / Nisca
The Gold of Naples (1954) - Sofia
Scandal in Sorrento (1955) - Donna Sofia
The Miller's Beautiful Wife (1955) - Carmela
Too Bad She's Bad (1954) - Lina Stroppiani
Boy on a Dolphin (1957) - Phaedra
The Pride and the Passion (1957) - Juana
Houseboat (1958) - Cinzia Zaccardi
That Kind of Woman (1959) - Kay
The Black Orchid (1958) - Rose Bianco
It Started in Naples (1960) - Lucia Curcio
The Millionairess (1960) - Epifania Parerga
Two Women (1960) - Cesira - Academy Award for Best Actress
Boccaccio '70 (1962) - Zoe
Yesterday, Today and Tomorrow (1963) - Adelina / Anna Molteni / Mara
Marriage Italian-Style (1964) - Filumena Marturano
Operation Crossbow (1965) - Nora
Arabesque (1966) - Yasmin Azir
A Countess from Hong Kong (1967) - Natascha
More Than a Miracle (1967) - Isabella Candeloro
Sunflower (1970) - Giovanna
The Priest's Wife (1971) - Valeria Billi
Lady Liberty (1971) - Maddalena Ciarrapico
The Cassandra Crossing (1976) - Jennifer Rispoli Chamberlain
Angela (2002) - Angela
Nine (2009) - Mamma
Human Voice (2014) - The Woman
The Life Ahead (2020) - Madame Rosa