Welcome to Mondo Italian Magazine's Jacksonville Page. Mondo Italiano has traditionally been a South Florida publication yet proud to announce that we are in the process of launching statewide and will be providing information, resources, events and advertising opportunities for every major city in Florida. Please send us your news at: pleaseadvertise@gmail.com We also have an amazing advertising package that includes the banner ad above, a social media package and a full page ad in our turnpage online magazine located at: floridaitalian.com click the banner above to find out more!
Prominent Italian / Italian Americans in Jacksonville
John Palumbo - Motivational Speaker
Terry Balsamo - Guitarist
John Crescimbeni - City Council Member
Al Ferraro - City Council Member
Mario Cortese - President of Italian American Club
John Bottaro - Businessman
Tim Volpe - Lawyer
Enza & Mike Huff - Restaurateurs
Notable Italian Restaurants in Jacksonville
Enza's - 10601 San Jose Blvd.
Primi Piatti - 2722 Park Street
Casa Dora Italian Cafe - 108 East Forsyth St
Taverna Wine Bar - 1986 San Marco Blvd
Carmine's Pie House - 2677 Forbes Street
La Cena - 911 Edgewood St
Sorrento - 6943 St Augustine Rd.
Local Organizations in Jacksonville
Italian American Club of Jacksonville - 2838 Westberry Rd
OSIA - 716 Ocean Blvd. Atlantic Beach
Amici d'talia Chapter OSIA - 40 Acme Street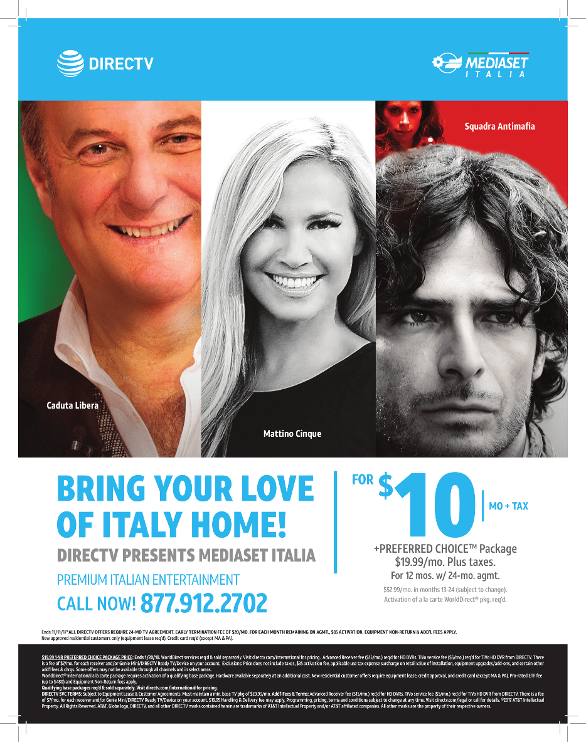 ____________________________________________________________________________________________________________________
© All Rights Reserved -
Mondo

Italiano
Magazine

2000 - 2018